fig 1: Original Image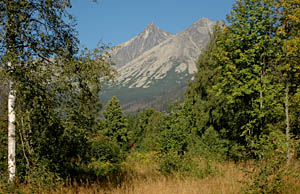 It seems most of us take the bulk of our photos during the summer. The weather is pleasant and we generally have more time due to holidays/vacations.
This is also true for the landscape enthusiast. Even though most scenic locations may look better in autumn or spring, summer may be the only time for most to enjoy taking landscape images.
All the Year round, there are ample opportunities to take good landscape images, however Autumn is argueably the best time. The colours in the foliage are at their most varied and vibrant creating stunning displays of gold red and brown leaves.
The image in fig 1 was taken at the beginning of August. The colours in the foliage are dull and there is very little variation in the shade of green.
fig 2: Replace Color Options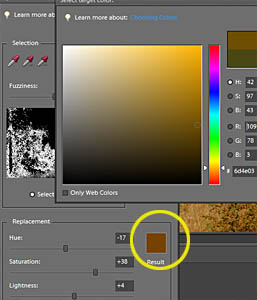 This is typical of most locations at this point in summer. However here is a way of transforming that dull summer snap to a colourful autumnal image without leaving your seat.
In Photoshop Elements this can be easily achieved. Go to Enhance>Adjust Color>Replace Color. The dialog box in default shows a type of negative lith image of the photo.
Using the Color Picker, select the shade of colour you want to alter. The lith type image will alter showing how much of that shade is in the image and effected by any changes made. Fuzziness can increase or decrease the shades within that general colour.
Once the shades are selected the colour can be altered dramatically. In fig 2 you can see a colour box called "Reset" (circled in yellow. Double clicking on this opens another dialog box indicated as "Select Target Color".
Here the colour can be changed using any one or more of the features in this box. Our colours for fig 3 were chosen by moving the slider down to an orangy/red colour and then fine tuning this in the larger Color window.
fig 3: Finished Autunmal Image
This dramatic but simple adjustment only takes about 10 minutes to perform. Naturally some experimentation is needed to get the effect just right.
To learn more about Digital Imaging or Landscape Photography, see our range of courses.