Every issue we will take an image or two to pieces or select a theme. We will discuss what makes or breaks the image. The photographs and the analysis given are selected from students contributions (with the photographers permission naturally).
Candid Canine ©Nigel Smith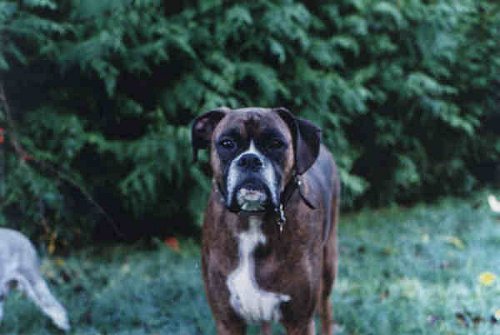 This issues photo under scrutiny is from Nigel Smith, one of our Basic Photography students who is from Surrey in England. This portrait of his dog was used as part of his submission for his Module 1 project.
Technical Quality
Nigel has done well in capturing the dog as far as exposure and sharpness are concerned. This gained him good marks for this particular project. It is always commendable to capture animals in a photo, as they do not generally "pose" for you, in particular when they are your own! Usually the slightest attention pointed a pets way is rewarded with a lot of running, jumping and dancing around!
Improvements
What has let Nigel down with this image though is the way that it is composed. When photographing portraits of people it is always best to hold the camera vertically, the same holds true when photographing animals. Notice that there is an amount of 'wasted' space on either side of the dog. The detail in the rest of the image adds nothing to the scene. As well as this, when using the horizontal or 'Landscape' format, it is more inclined to include distracting detail. This is evident in this image on the left hand side.
Another common mistake, which Nigel has committed, is putting the subject bang in the centre of the image. It is usually best to focus on the subject first with the centre of the viewfinder. Once this has been achieved though the image should be recomposed. Had Nigel dropped his view slightly he could have included the whole dog.
Improvement by Cropping
Notice in our edited version of this image that the frame is completely filled with the subject. This adds impact to the whole photo with very little wasted space or distracting detail. The image is instantly recognisable as a portrait of the dog with nothing else in the image to suggest otherwise.
Okay Nigel, grab that dog and have another go!